Latest Past Events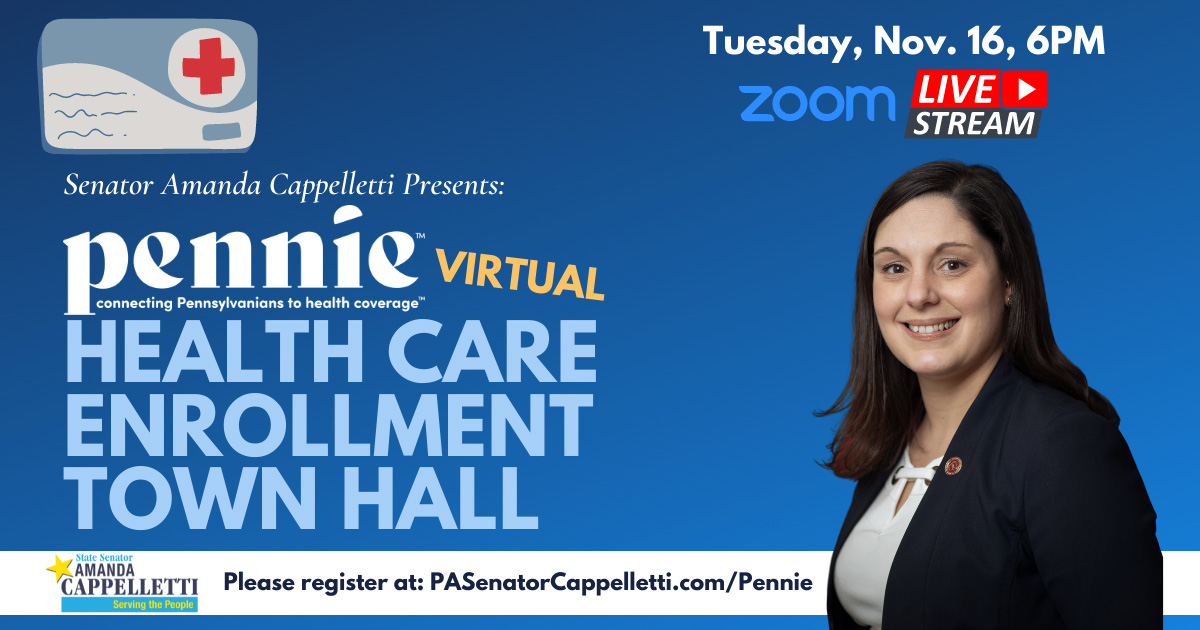 Join Senator Cappelletti for a virtual town hall enrollment event on November 16th to learn more about the health insurance options in PA and how to enroll.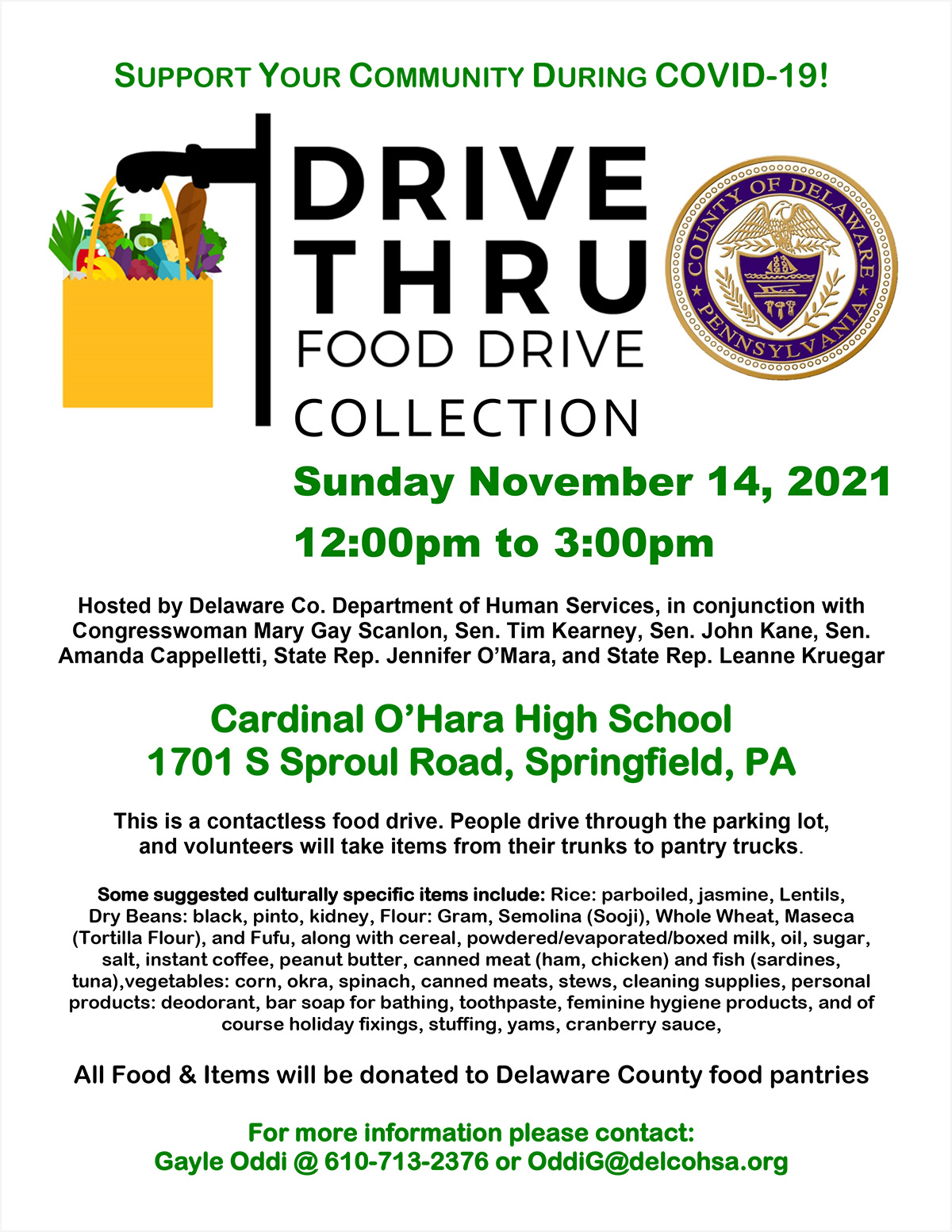 Cardinal O'Hara High School
1701 S Sproul Road, Springfield
SUPPORT YOUR COMMUNITY DURING COVID-19!
The Drive Thru Food Drive Collection will be held on Sunday November 14, 2021 from 12:00pm to 3:00pm at the Cardinal O'Hara High School located at 1701 S Sproul Road, Springfield, PA. The event is hosted by Delaware Co. Department of Human Services, in conjunction with Congresswoman Mary Gay Scanlon, Sen. Tim Kearney, Sen. John Kane, Sen. Amanda Cappelletti, State Rep. Jennifer O'Mara, and State Rep. Leanne Kruegar.
This is a contactless food drive. People drive through the parking lot, and volunteers will take items from their trunks to pantry trucks.
Some suggested culturally specific items include: Rice: parboiled, jasmine, Lentils, Dry Beans: black, pinto, kidney, Flour: Gram, Semolina (Sooji), Whole Wheat, Maseca (Tortilla Flour), and Fufu, along with cereal, powdered/evaporated/boxed milk, oil, sugar, salt, instant coffee, peanut butter, canned meat (ham, chicken) and fish (sardines, tuna),vegetables: corn, okra, spinach, canned meats, stews, cleaning supplies, personal products: deodorant, bar soap for bathing, toothpaste, feminine hygiene products, and of course holiday fixings, stuffing, yams, cranberry sauce.
All Food & Items will be donated to Delaware County food pantries.
For more information please contact: Gayle Oddi @ 610-713-2376 or OddiG@delcohsa.org.
Download Flyer →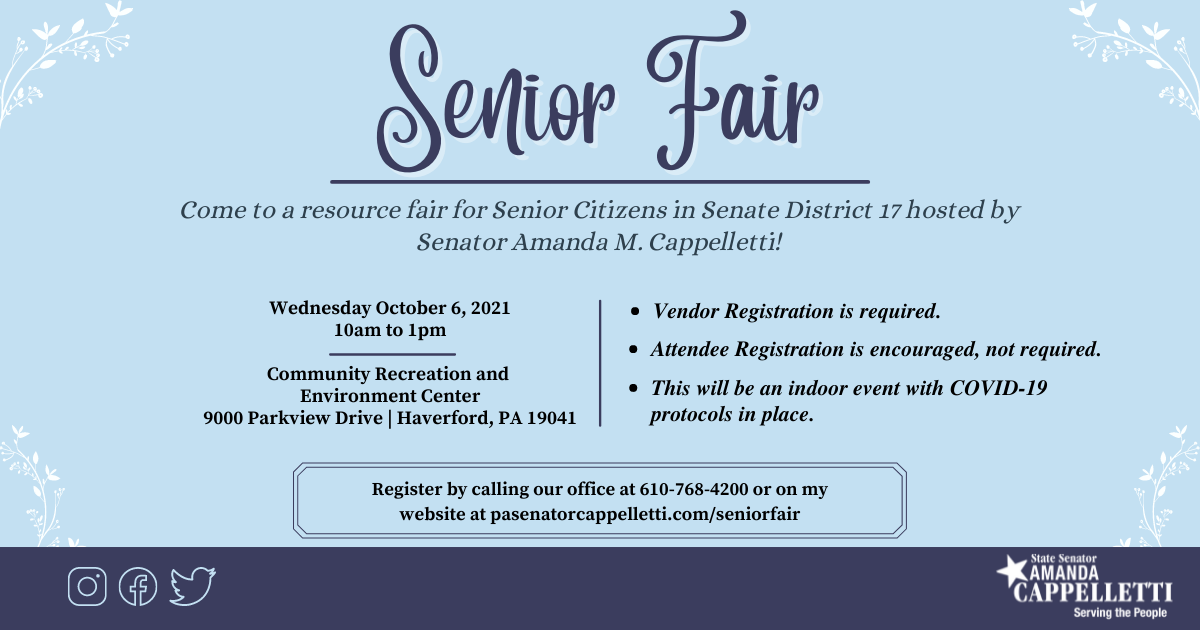 Community Recreation and Environment Center
9000 Parkview Drive, Haverford
Join Senator Amanda M. Cappelletti for a Senior Fair for State Senate District 17 residents at the Community Recreation and Environment Center on October 6, 2021 in Haverford! Register below. Lunch will be provided! This event will have resources available for senior citizens including: property tax/rent rebate assistance, Medicare assistance questions, long term care assistance questions, and much […]